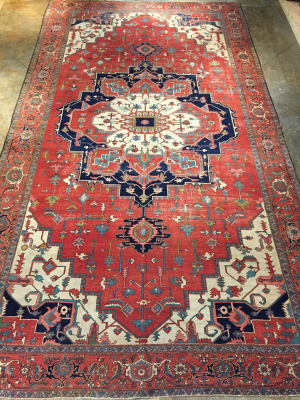 Oriental rugs are generally sturdy, very durable, and stay looking as good as new for a very long time. High-quality antique rugs in Atlanta have been known to withstand foot traffic for decades. However, that doesn't mean they don't need proper care. Instead, an Oriental rug that is not well maintained will begin to look worn and lose its original luster and beauty. Protect your investment with a little extra attention and care to extend the life of your rug.
Fading color is one of the most common rug problems you'll encounter in your Oriental rug. While a little fading is expected over time, leaving your Oriental rug exposed to the sun will cause it to fade prematurely. Instead, try to keep it out of harsh, direct sunlight, if possible.
Stains and soils are another common rug problem. Spilled liquids, dropped foods, and mud tracked in on dirty shoes can all stain your rug. While accidents and dirt are inevitable, you can prevent permanent staining by cleaning up dirt and spills as soon as possible. Do not add house hold cleaning spray for the chemicals can agitate the dyes and fibers causing further damage.  For the best results, your stained handwoven rug should be taken as soon as possible to a professional for treatment.  If you need expert and fairly priced  rug cleaning in Atlanta, GA we hope you consider us at Amiri Rug.
For homes with pets, pulled loops can be another common problem. Oriental rugs are perfect for sharpening claws, leaving rug loops pulled out as a result. If you can't keep your pets away from your hand woven rug, you'll want to trim the loops to even the surface.  Lightly shearing a hand woven rug  can be a difficult, tedious task so you may want to seek out a professional with experience and expertise with hand woven rugs.  For questions regarding the care of Oriental and antique rugs, contact Amiri Rug Gallery. We have a long history in rug cleaning and rug repair in Atlanta, GA and can help you with solutions for maintaining the beauty and long life of your hand woven rug.