Trusted Craftsmen Performing Rug Repair in Atlanta, GA
Restoring a rug, especially an Oriental, Persian, or another valuable area rug, is a delicate process that requires the eyes and skills of trained specialists. At Amiri Rug Gallery, Inc., our experienced craftsmen know how valuable your pieces are, including those that were passed down through the generations as invaluable family heirlooms.
Using only the most effective restoration methods, we carefully carry out aesthetic and functional repairs to mend burns, moth holes, tatters, and tears that return your piece to a finely woven work of art. Trust our experienced specialists with your rug repair in Atlanta, GA. You can have the utmost confidence that your rugs will look their best for years to come.
Caring for Beautiful Rugs from Around the World
We proudly care for some of the most elegant pieces from around the world. At your request, we will pick up and mend your antique and semi-antique rugs using our delicate, specialty cleaning methods. We will carefully treat your item with our thorough cleaning process for maximum soil and spot removal. Moreover, entrusting us to meet your rug repair needs ensures that we can expertly control the cleaning process and use various specialty tools required to restore your valued treasure safely and gently.
When you shop our online inventory, you'll instantly notice exciting patterns and vibrant colors that seem to jump out at you. By coming to our business when you need a rug repair in Atlanta, GA, you can have the utmost confidence that your piece will exhibit a beautiful coloring and pattern that could rival those in our collection.
Browse Our Collection of Antique and Semi-Antique Rugs
In addition to being the company to count on when you need a rug repair in Atlanta, GA, we've committed ourselves to offer a wide assortment of beautiful handmade rugs for sale to our diverse client base. Feel free to browse our online inventory for a cursory glance at what we're currently offering. Since we have an extensive selection, we've highlighted a few of our most widely preferred items. We highly recommend contacting our courteous staff members should you have any special requests or questions about an item. Reach out to us when you want to shop for high-quality rugs.
Color Run Damage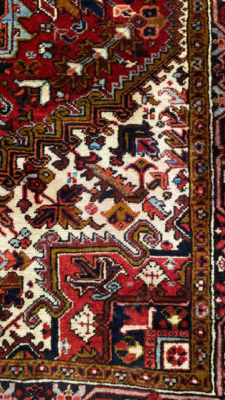 Color Run Correction